The US Offshore Wind Turbine Technology Roadmap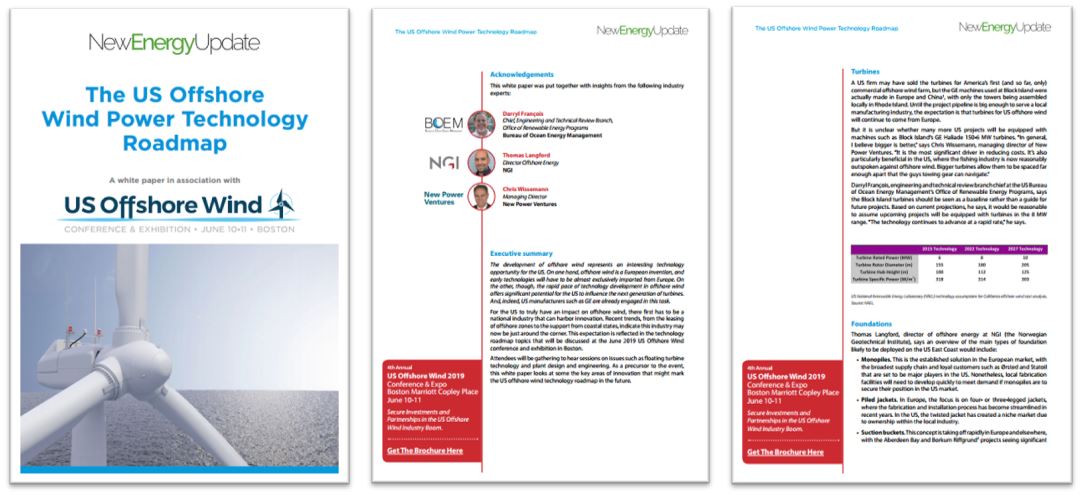 Download this whitepaper by completing this form on the right >>>
Learn about the US offshore wind turbine technology roadmap in this complementary whitepaper. It looks at some the key areas of innovation that might mark the US offshore wind technology roadmap in the future…
You'll learn about…
Turbine supply
Foundations suitable for the US
Technology innovation
Outlook and conclusions for the US market
Executive summary
The development of offshore wind represents an interesting technology opportunity for the US. On one hand, offshore wind is a European invention, and early technologies will have to be almost exclusively imported from Europe. On the other, though, the rapid pace of technology development in offshore wind offers significant potential for the US to influence the next generation of turbines. And, indeed, US manufacturers such as GE are already engaged in this task.
For the US to truly have an impact on offshore wind, there first has to be a national industry that can harbor innovation. Recent trends, from the leasing of offshore zones to the support from coastal states, indicate this industry may now be just around the corner. This expectation is reflected in the technology roadmap topics that will be discussed at the June 2019 US Offshore Wind conference and exhibition in Boston.
Attendees will be gathering to hear sessions on issues such as floating turbine technology and plant design and engineering. As a precursor to the event, this white paper looks at some the key areas of innovation that might mark the US offshore wind technology roadmap in the future.
Download this whitepaper by completing this form on the right >>>
New Energy Update is part of FCBI Energy Ltd, Registered in England and Wales - company registered number 09823824 - 7-9 Fashion Street, London, E1 6PX, UK. © 2016 FCBI Energy Ltd. All Rights Reserved.




Adam Minkley
Project Director | 4th US Offshore Wind 2019
New Energy Update


E. adam@newenergyupdate.com
T. +44 (0)207 375 7239 (Direct)