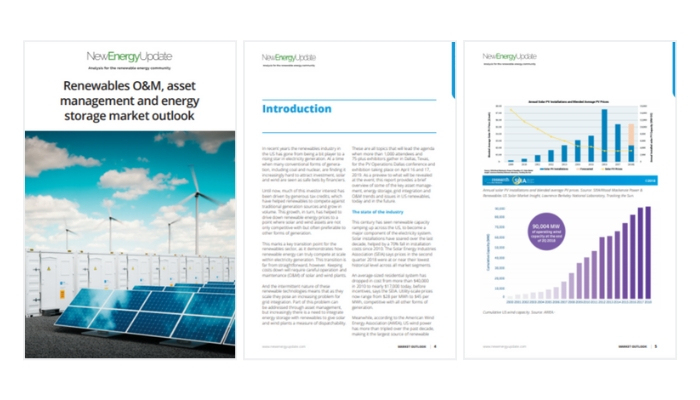 In recent years energy storage has emerged as a key ally for the renewables industry, allowing excess production to be stored and sold when market conditions are favorable.
And while the addition of batteries to renewable projects was originally a costly exercise, a rapid fall in the price of lithium-ion battery technologies now means solar and wind plants can be equipped with significant levels of energy storage and still remain competitive.
This reduction is expected to continue, with Wood Mackenzie Power & Renewables forecasting an 80% drop in battery prices between 2017 and 2040.
New Energy Update covers this and much more in our latest complimentary market report for the U.S. wind community, a 30+ page report providing Operations & Maintenance, Asset Management & Energy Storage Market Outlook 2019-2022
Download your FREE copy of the 30+ page market report here >>>
Key features of the report include:
Latest asset owner operations & maintenance strategies and shifting business models
Assessments of full and partial repowering uptake, lifetime extension alternatives, and self-performance
Energy storage + solar and energy storage + wind technologies, financing and application considerations for asset owners
Grid integration and bolstering U.S. grid resilience to maximize renewable energy success
Download the market report now for the most up-to-date PV operations insights and take your company on the journey to success in renewables.
Let me know if you have any questions or feedback and hope you find this helpful!
My best,
Diana
New Energy Update is part of FCBI Energy Ltd, Registered in England and Wales - company registered number 09823824 - 7-9 Fashion Street, London, E1 6PX, UK. © 2016 FCBI Energy Ltd. All Rights Reserved.
DOWNLOAD YOUR FREE

COPY NOW
And receive the report direct to your inbox in a few minutes
PV, Wind and Battery Storage Technologies and Applications to Maximize Profits
Download your FREE copy of the 30+ page market report here >>>